Lower Mainland Home Sales & Values Drop Due To Interventionism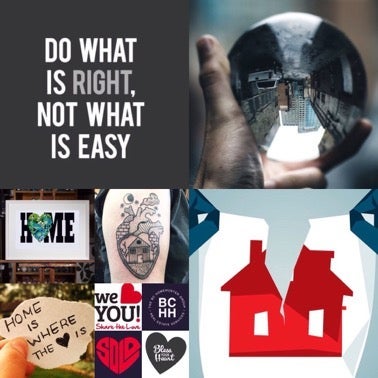 If you thought the 2016 real estate market was tumultuous wait for the media and political induced roller coaster ride to come. 
Without further ado here is our first market report of 2017. Real estate prices in Metro Vancouver, Fraser Valley, the North Shore etc. have dropped by as much as 10 per cent in some cities since the draconian interventionism that was the foreign buyers tax, implemented in August, according to Greater Vancouver and Fraser Valley real estate board reports released yesterday.
Over the past six months, detached homes across the region have dropped in value by as much as 9.6 per cent in West Vancouver, eight per cent in North Delta and six per cent in North Surrey. Lower Mainland prices dropped by 3.6 per cent overall over that time period.
The Fraser Valley Real Estate Board recorded a 0.5 per cent decrease in the benchmark value of detached houses since November, from $881,400 to $856,700, and a 2.3 per cent decrease since July, the month before the 15 per cent foreign buyers tax took effect in Metro Vancouver. However, detached Fraser Valley homes are still showing a 27.4 per cent increases in price since December 2015.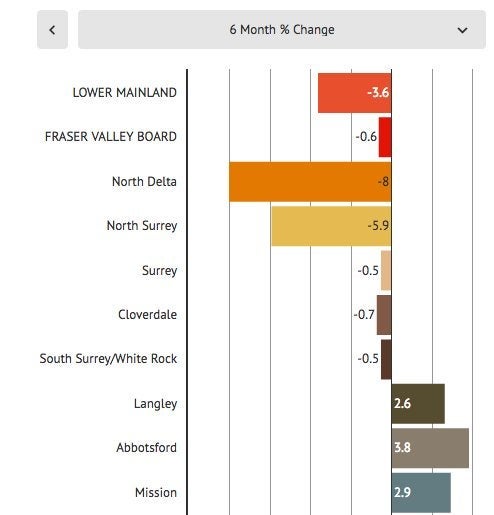 North Delta, Surrey, White Rock and Langley are within the FVREB's coverage area and among the Metro Vancouver cities subject to the tax.
Fraser Valley townhouses have decreased in value by 1.8 per cent to $416,600 while apartments have increased by 0.2 per cent to $259,000. That's an increase of 29.5 per cent and 26.4 per cent respectively, compared to December 2015.
The Real Estate Board of Greater Vancouver has shown similar decreases in benchmark prices.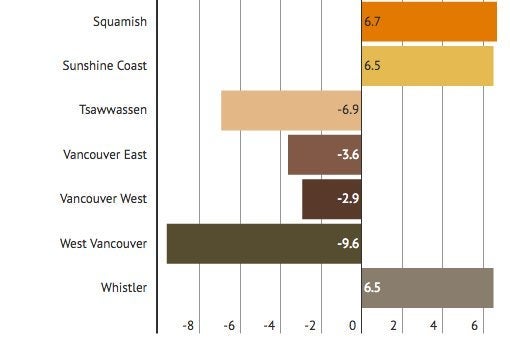 The benchmark price for a detached property has decreased 1.8 per cent since November and by six per cent since July, the last month before the foreign buyers tax. Prices have increased by 18.6 per cent since December 2015.
Benchmark prices for townhouses and apartments in Greater Vancouver decreased by 0.8 per cent and 0.3 per cent respectively, down to $661,800 and $510,300. Townhouse prices have increased by 20.4 per cent increase since December 2015 while apartment prices have seen a 17.3 per cent increase since December last year.
We kept it short, sweet and to the point. If your a home buyer or a home seller you should indeed be very concerned where prices and sales numbers are heading going into our traditional spring real estate market. Best practices dictate you hire the very best real estate team you can interview to represent your needs and advise you honestly - always putting your needs above anything else!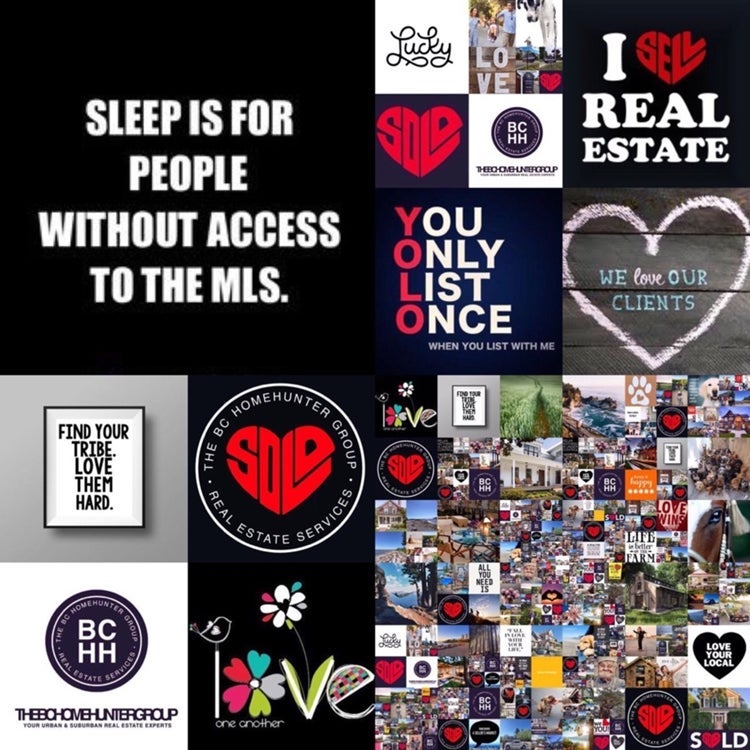 If your considering the purchase or sale of your home or any real estate don't hesitate to call, email, text or connect with us socially anytime,
604-767-6736
.

Share
blog comments powered by

Disqus
Categories
Archives

Subscribe To This Blog