COMMUNICATION IS IMPORTANT IN A RELATIONSHIP - CONNECT WITH US ANYTIME

 BCHH is looking forward to chatting with you! 
Here's our pitch. 
From the very beginning, THE BC HOME HUNTER GROUP #BCHOMEHUNTER
was built to be a company that is invested in the success of the people and communities of our truly remarkable province - not because it would increase our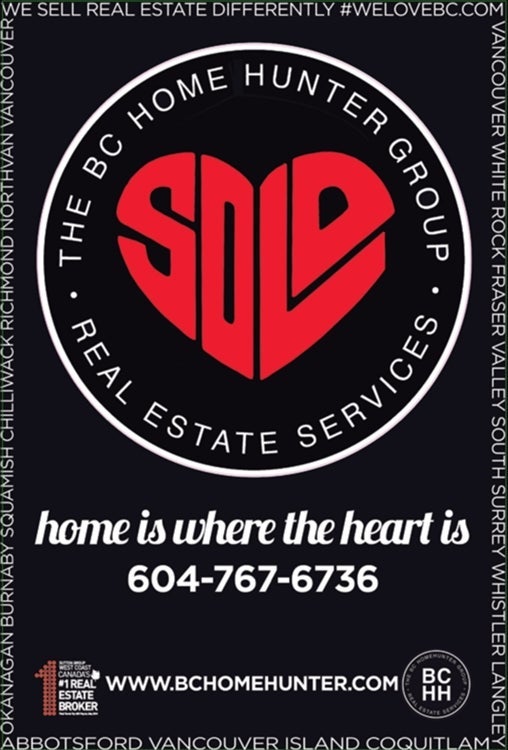 profits, but because we care and #WELOVEBC! This goal remains true to this day: building a company that focuses on fostering a unique culture and gives ALL British Columbians a voice through our unique brand of real estate. An expample is our Follow Your Heart referral and charity program, designed to simply give back to you and the less fortunat
We are a community of professionals and dreamers, who have come together to change an industry that needs changing from the inside out, make a difference in our communities and support our neighbours. Each and every one of our clients never feel unsupported, our levels of transparency leave nothing on the table. 
Contemplating the purchase or sale of your home or possibly a renovation or the building of your home? Feel free to call 
604-767-6736
 anytime, our team at The BC Home Hunter Group are here to assist anyway we can.
WWW.BCHOMEHUNTER.COM 
WWW.VANCOUVERHOMEHUNTER.COM
WWW.FRASERVALLEYHOMEHUNTER.COM
WWW.NORTHVANCOUVERHOMEHUNTER.COM
WWW.WHITEROCKHOMEHUNTER.COM
WWW.LANGLEYHOMEHUNTER.COM
WWW.CLOVERDALEHOMEHUNTER.COM
WWW.WESTVANCOUVERHOMEHUNTER.COM
WWW.PITTMEADOWSHOMEHUNTER.COM
WWW.BURNABYHOMEHUNTER.COM
 
WWW.COQUITLAMHOMEHUNTER.COM
WWW.DELTAHOMEHUNTER.COM
WWW.MAPLERIDGEHOMEHUNTER.COM
WWW.PORTMOODYHOMEHUNTER.COM
WWW.SURREYHOMEHUNTER.COM
WWW.SOUTHSURREYHOMEHUNTER.COM
WWW.FORTLANGLEYHOMEHUNTER.COM
WWW.MORGANHEIGHTSHOMEHUNTER.COM
WWW.ABBOTSFORDHOMEHUNTER.COM
WWW.SQUAMISHHOMEHUNTER.COM
WWW.WHISTLERHOMEHUNTER.COM
WWW.PORTCOQUITLAMHOMEHUNTER.COM
WWW.YALETOWNHOMEHUNTER.COM
WWW.EASTVANCOUVERHOMEHUNTER.COM
WWW.CHILLIWACKHOMEHUNTER.COM
WWW.OKANAGANHOMEHUNTER.COM
WWW.ISLANDHOMEHUNTER.COM
WWW.CANADIANHOMEHUNTER.COM
WWW.CANADAHOMEHUNTER.COM
WWW.FIXERUPPERVANCOUVER.COM
WWW.FIXERUPPERCANADA.COM
WWW.604LIFE.COM
WWW.BCHHREALTY.COM
WWW.WELOVEBC.COM
WWW.LOVEWHITEROCK.COM
WWW.WELOVESOUTHSURREY.COM
WWW.WELOVETHEFRASERVALLEY.COM
WWW.OCEANPARKHOMEHUNTER.COM
WWW.CRESCENTBEACHHOMEHUNTER.COM
WWW.GRANDVIEWHOMEHUNTER.COM
WWW.BCHOMEHUNTER.COM
FORM FIELDS AND TYPING INTO THEM MAY NOT BE YOUR THING.
You might instead prefer the phone. Voice to voice action. Or a good old fashioned email. Whatever the case, we still want to hear from you. So please call or send us a note. Use the info below to do so. And we'll get right back to you, MANDEEP SENDHER - REALTOR -
604-767-6736
.
Quick Contact
THE BC HOME HUNTER GROUP
REMAX CREST WEST SIDE
3215 Macdonald St,
Vancouver
BC
V6L 2N2
Mobile:
Real Estate Sales I Mandeep Sendher (Realtor) 604-767-6736
Phone:
Building I Design I Development I Construction I Robert Pybus 604-767-6736
Email:
sold@bchomehunter.com