YOUR HOME YOUR FAMILY YOUR LIFE - PRICELESS


Our BCHH real estate brand is like a promise from your best friend not some stranger trying to sell you something you don't want or need.
Welcome to our flagship real estate site - one of dozens we use to serve our clients throughout Metro Vancouver, the North Shore, Fraser Valley and beyond. Our trademarked SOLD heart is recognized everywhere not just for our real estate 
charity but as the real estate brand that most definitely sells BC Real Estate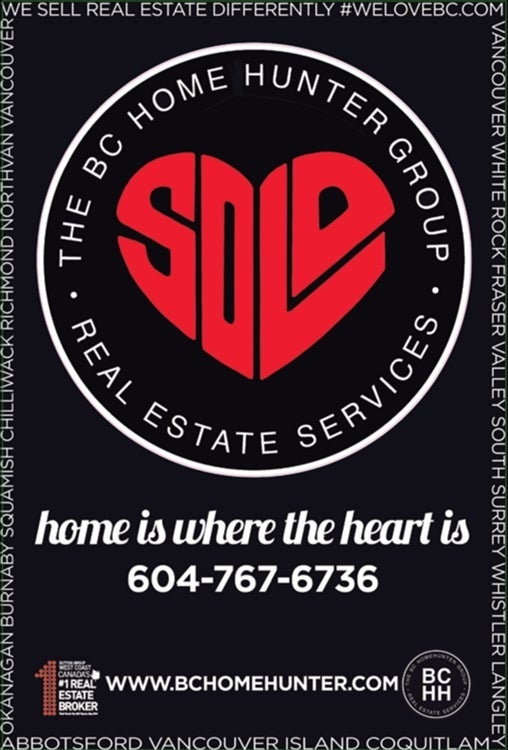 In a world of global markets, mass corporate identities, where "cute" means small, "great location" means by the freeway and the media spins things faster than our grandmothers clothes dryer - things can get confusing. 
Truth is, the buying and selling of our spectacular BC Real Estate doesn't have to be complicated. That's why we do it differently.

With lifetimes of successful local real estate, development, construction and business experience, our passionate team at 
THE BC HOME HUNTER GROUP are the #1 
Digital Marketing Real Estate team in BC. 
Need help selling or finding your next home? Call our team anytime,
604-767-6736
.
---

  NEWEST TRENDING BC HOMES & LAND 
Quick Contact
THE BC HOME HUNTER GROUP AWARD WINNING REAL ESTATE SALES & HOMEOWNER ADVOCATES I METRO VANCOUVER I NORTH SHORE I FRASER VALLEY I BC
Sutton West Coast Realty I Metro Vancouver I North Shore I Fraser Valley I West Coast I BC
15595 24th Avenue
White Rock
BC
V4A 2J4
Mobile:
Marketing I Business Development I Robert Pybus
Phone:
Real Estate Sales I Mandeep Sendher I 604-767-6736
Fax:
604-538-0237
Email:
sold@bchomehunter.com