BCHH 2021 Fall Market Real Estate Report:
BCHH 2021 Fall Market Real Estate Report:
With a push from COVID, the B.C. property market is reinventing itself.
Exploring four potential BC Real Estate themes: why industrial real estate keeps booming, where British Columbians will work post-pandemic, how that event changed housing patterns, and what First Nations' rise as developers means for them and for the province's shelter shortage.

Industrial land is the new hot property class:
Malls, condos, rental apartments, office towers. Those used to be the prime types of real estate that people with money looked at first. Then malls started to struggle as retail began shifting to the virtual world. The apartment market in the larger B.C. cities and in Vancouver, especially, wobbled the past few years with the addition of vacancy taxes, speculation taxes and then COVID impacts. Offices started to see change with a low-key shift that had been happening with some employers, as companies found it cheaper and more practical to have some staff work other places than traditional downtown premises. That silent trend exploded during pandemic times.

The hybrid work mystery:
If there's a cliff-hanger in the popular ongoing series Vancouver Real Estate Tiger King Crown Gambit, it's what will happen as work patterns change—or don't—after the pandemic. Millions of anecdotes are blooming in the social media world about who's doing what, along with statistical reports attempting to discern a pattern among early signals. Advocates for the various future solutions—the commercial brokers for the traditional office spaces, the remote-work cheerleaders—are fervently arguing their case in public, adding to the muddled picture.

So you hear it all. Downtowns will roar back. No, the suburban office market will take off. No, employees will now work everywhere around the world. Or: Subleasing is on the rise as companies try to bail out of their commitments. No, companies are taking them back as they decide to hang onto space. And: Everyone is moving out of the city. No, they're just moving a little farther out, but not that far.

And what Vancouver's ever-expanding technology industry—which grew by 36 percent in the past five years and whose talent infrastructure now ranks 11th in North America—will do is crucial. Typically, tech companies have wanted to be downtown or nearby, because that's what their urban-loving, bike-riding, brewpub-visiting employees have wanted. And they've said it's important to be together in person for collaborative innovation. But tech is also an industry where remote work is 100-percent feasible.

If downtown ceases to be the magnet it now is, that could spark significant restructuring in the whole region. That's what a rather dire report from the Vancouver Economic Commission concluded last December. "Vancouver's downtown core, or central business district, is particularly at risk of decreased economic activity post-COVID due to accelerating trends shifting the spatial characteristics of work, including shifts to remote work, potential shifts towards satellite offices, shifts to remote learning and increases in online shopping, as well as the downstream effects these changes will have on downtown service-industry businesses."

Certainly, some developers see that the way of the future for them is mixed-use projects outside the central city, where people will be living and working in different ways than the 20th-century model. The suburbs have been changing for decades; the pandemic emphasized their transformation. "Mixed-use is an ongoing trend," says Carlson at Anthem, which is developing such projects in the places that are evolving into much more complex urban pieces of the region, from Burnaby and Coquitlam to Squamish and Chilliwack.

But no one knows exactly how big the shift might be. At the moment, downtown vacancy rates are up slightly, but most noticeably in older, Class C buildings. In April of last year, many were predicting that companies would cut their office space in half. Now, says Wong from Altus, it looks more like it will be around 10 to 15 percent.

Meanwhile, developers keep planning new office towers in Vancouver. At BentallGreenOak, the giant real estate company that owns 24 office and mall properties just in B.C., along with managing others, gloom isn't on the agenda. "With downtown, we're pretty optimistic about a snapback," says Phil Stone, head of the company's research division. Even after a year-and-a-half of pandemic, he notes, Vancouver still has the lowest vacancy rate of the 30 largest downtowns in Canada and the U.S.

However, even the most relentlessly cheery from the "offices are going to come back" cohort say there will be changes. Wong predicts a different dynamic. Tenants will want shorter leases (three to five years instead of seven to 15). They'll use short-term offices for temporary bulges in employee traffic or special projects. "They need that flex to shrink or expand," Wong says. "Coworking spaces are kind of ideal."

Everyone is talking about a hybrid work system—some days at home, some in the office. But hybrid means a different thing to each person and each company. Each choice means a potential different outcome for real estate.

Scenario 1: Some companies are giving up all long-term offices and never going back. Like Dallas Fontaine. He had seven employees at a Gastown coworking space for his company, The Perk Services, which devises reward systems for employees working remotely. In March, everyone in his company was sent home, and they scattered—to Victoria, to Rossland, to Burnaby. (Three were downsized.) Fontaine tried working at home in Langley. With three young children, the 29-year-old dad found that things didn't go so well: "If you have kids, you can't think."

Fontaine started renting an office five minutes away from his Willoughby house in a commercial building on 200th Avenue. It provided him with equipment, quiet and a group of adults to connect with occasionally. Now his plan is to keep renting that space from Regus, a division of the world's largest flex-office company—in the business long before WeWork—called International Workplace Group (IWG). Fontaine will use other IWG sites for downtown meetings or to provide other employees with out-of-home office space. When he wants a company-bonding event, he organizes a lunch at a restaurant, usually about once a month.

Fontaine started renting an office five minutes away from his Willoughby house in a commercial building on 200th Avenue. It provided him with equipment, quiet and a group of adults to connect with occasionally. Now his plan is to keep renting that space from Regus, a division of the world's largest flex-office company—in the business long before WeWork—called International Workplace Group (IWG). Fontaine will use other IWG sites for downtown meetings or to provide other employees with out-of-home office space. When he wants a company-bonding event, he organizes a lunch at a restaurant, usually about once a month.

Scenario 4: Some companies have always been work-from-home forward. Now, they're increasing that. Telus Corp., one of B.C.'s largest employers, has pushed flexible work since 2010. Before the pandemic, the company had 25 percent of people in its offices, with the rest either on flexible arrangements or, for a few, completely remote. Post-pandemic, only 10 percent will have an office desk.

It's meant rethinking the company's space. The old layout was 65 percent workstations, 35 percent meeting rooms. That's going to be flipped. Over time, there will be a slight reduction in square footage—and no wholesale move to a Surrey tower, as had been pondered. "We're thinking of offices as places to go with purpose," says Jennifer Anquetil, Telus' director of people and culture. "Our spaces are going to be designed with more opportunities for connection."

So where will everyone live?

One of the most persistent stories from the pandemic has been about people fleeing the city for more space and a less stressful environment, as they worked from home and were coping with waves of anxiety. But like with the work-from-home trend, the picture is still coming into focus about what exactly has happened and will happen going forward. There's not a housing specialist or realtor alive who thinks Vancouver will empty out permanently, though condo sales downtown did slow during COVID and some reported that women started moving out of areas that began to feel unsafe, like Gastown.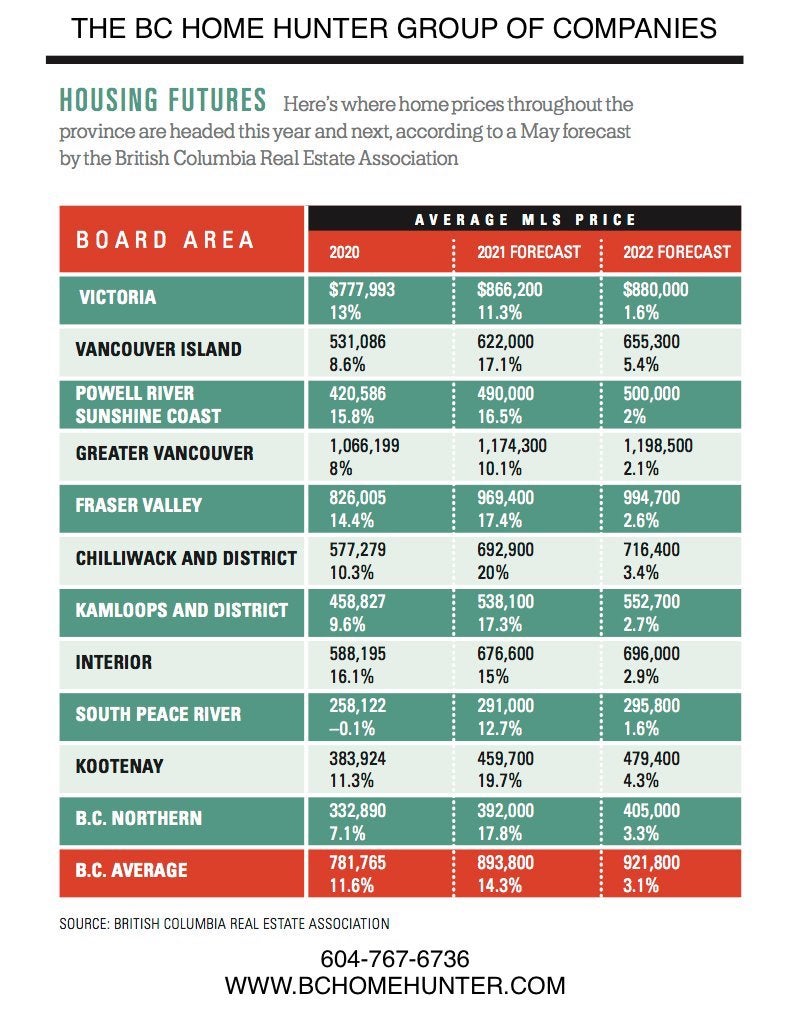 But the central city will fill up again, they say, as soon as the world is on the move again and the students, immigrants, tech employees and just regular people lured by the West Coast lifestyle start flooding in again. People like Bea Torrevillas and her husband, due to arrive here in September because they just want a city with a more robust economy and nicer weather. They're willing to pay more and live in a smaller space, possibly the West End. "We are tired of Manitoba's winter, and I believe there are more opportunities in Vancouver careerwise," says Torrevillas, a 28-year-old veterinary tech originally from Spain whose husband runs a consulting business.
That's the typical pattern for any city: The new arrivals, especially young people, come in on regular tidal waves. At some point, some of them ebb out—to the suburbs, to other cities and towns—as they get older. The pandemic slowed the incoming tides of new arrivals and accelerated the retreat of everyone planning a move out anyway. That bump of outward motion, after an intense several months, appears to have slowed as the majority of that group has made its move.

Stories about people fleeing to bucolic towns and midsize cities, far from the expensive coastal cities, abounded during the pandemic. However, careful studies in the U.S. have shown that most people who did leave central cities in the last year-and-a-half didn't move very far. They mostly ended up a little further out in the region—like Oakley.

But the Vancouverites who did move further afield, even if they're the minority group, still had a huge impact elsewhere. "We have so many new people," says Susan Swan, the mayor of Clinton, a village of about 650 on Highway 97, which runs north from Cache Creek. That's added to housing pressures that were already there. "Even when we hired our CAO last year, he had difficulty finding a place. There is nothing to rent here, and even when there is, the prices are so high."

None of that is breaking news to Marleen Morris, who's been researching the housing crisis in non-metropolitan Canada for years. It's affecting small towns all over B.C., creating a downward spiral because housing shortages make it hard for those towns to attract teachers or doctors, stifles possibilities for economic growth and ultimately pushes people into the larger cities.

"The housing issues here are as important and critical as the metropolitan areas. They just aren't as visible," says Morris, co-director of the Community Development Institute at UNBC in Prince George. "The more this happens, the more social and economic momentum dies. It's actually detrimental to the well-being of the whole province."

Smaller towns that attract retirees—Campbell River, Osoyoos, Parksville, Penticton—have seen developers come in to build for the new population. But that doesn't happen in many other small towns, where tradespeople have left for growing metropolises and developers don't want to take a chance because they've been burned by previous booms and busts.

That's how someone like Lori Fell ended up living the past year in her trailer in Vanderhoof, even though she has a relatively good job and can pay as much as $1,000 a month for rent—a reasonable amount for a place so far from a major metropolis. She was beyond thrilled when, this August, she scored a place to rent, beating out 50 others, including someone who offered $400 a month more. It's still a trailer of sorts, and it's still 35 kilometres from town, but this one is a manufactured home that's big enough she can stretch out her arms without touching the walls, and it has a water connection. There was still nothing available actually in the town.

The only significant construction going on in Vanderhoof is a couple of projects funded by BC Housing, one of them a seniors' apartment building. The mayor, like the mayor in Clinton with a similar seniors' project, is hoping that will help by getting some older people out of the near-empty houses where they raised children and opening up those homes for others.

In the meantime, prices are going up as newcomers arrive. A young couple from Vancouver Island paid $279,000 for their house this March, $60,000 above the assessed value, while a geographic information system (GIS) specialist moving to town paid $254,000 last September—almost $50,000 over assessment. "People want to move out of the city, and during the pandemic, they decided now is the time," says Mayor Gerry Thiessen, also a realtor. "But if you get eight or nine new people in a town like Vanderhoof, that's pushing the limits."

So there you have it folks, big news for British Columbia home buyers, sellers, investors, builders and developers moving forward. We at The BC Home Hunter Group of Companies continue to see the "flight to detached" and to the amazing small towns and extremely desirable rural communities dotting our incredibly diverse province. If your considering selling, buying, building or renovating your home or property don't hesitate to contact us anytime,
604.767.6736
.

Share
blog comments powered by

Disqus
Categories
Archives

Subscribe To This Blog