Another Metro Vancouver I Fraser Valley I BC Real Estate Update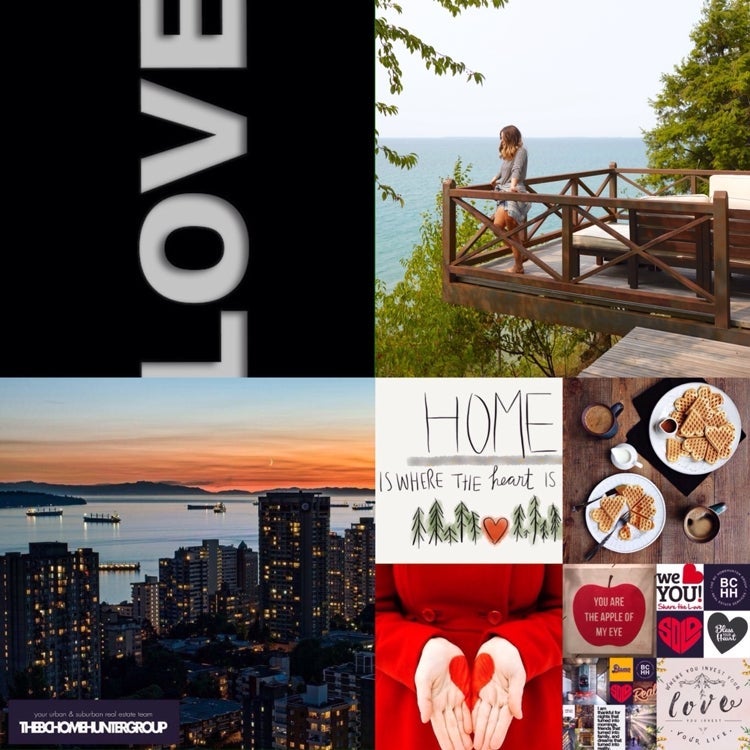 Coffee, hockey, real estate, climate change, homelessness, drugs, traffic? Phew here we go again folks, the media and every special interest group littering social media are at it again. Don't shoot the messenger!
There are plenty of studies, anecdotes and reports into just how unaffordable Vancouver's real estate market has gotten recently.
But the most obvious example of Vancouver's spiraling real estate prices might just come from a monthly report that has existed for 39 years.
The Real Estate Board of Greater Vancouver has been tracking the average price of all properties in their region – which spans from Whistler to Squamish north to south, and Powell River to Maple Ridge west to east – since 1977.
And their data shows the average price of a single-family detached home in the Greater Vancouver area has increased as much in the past five months as it did from 1981 to 2005.
The average price of a sold detached home was $1.4 million in September last year – but climbed to $1.6 million in October, $1.7 million in December, and $1.8 million last month – overall, an increase of $420,000.
By contrast, it took five years (from March 2010 to March 2015) for the average to rise from $1 million to $1.4 million, another five years (August 2005 to March 2010) for the average to go from $600,000 to $1 million – and 24 years (from February 1981 to August 2005) for prices to go from $180,000 to $600,000.
Here's the chart.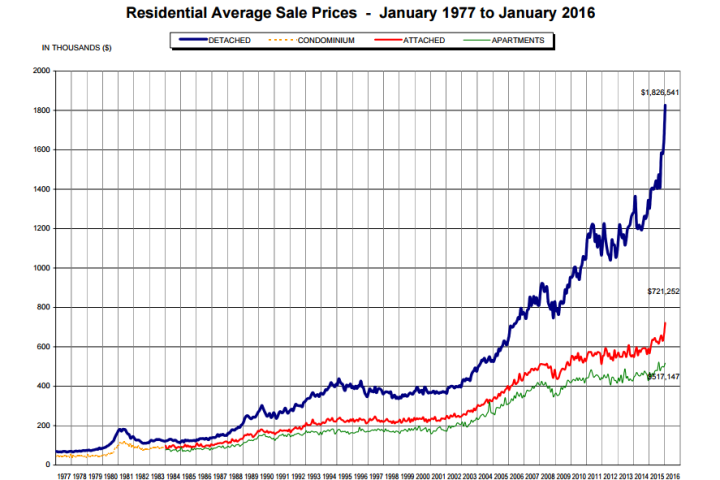 And in 1981, an average home suddenly being sold for $180,000 was concerning, as it represented a doubling in price from the previous year.
But according to the Bank of Canada's Inflation Calendar, $180,000 in 1981 is equivalent to $486,652 today.
"It is really, really striking what's happened recently," said Thomas Davidoff, another left wing housing economist at UBC's Sauder School of Business.
"Nobody thought it was a bargain 30 per cent ago, but it is now truly reaching a crisis proportion."
Townhomes and condos show less dramatic growth.
In a presentation to media before last week's provincial budget, Finance Minister Mike De Jong made the argument that the real estate discussion should focus on all residential properties, not just detached homes. He presented a slide showing 76 per cent of all housing units sold in Metro Vancouver last year were under a million dollars.
"This proposition that it is impossible to buy a home in Vancouver…simply isn't the case," he said.
The B.C. government to start tracking foreign ownership?
"We are viewed as an economy where people can come and succeed. People are coming here. Of all the problems to jurisdictions to have, that's a far better one than the opposite."
And if you look at the historic numbers, the average price of townhomes and apartments has risen much less rapidly than detached homes. According to the Real Estate Board of Greater Vancouver, detached homes have gone up in average value by 159 per cent in the last decade – but attached homes have gone up by 81 per cent, and apartments by 61 per cent.
"There's a demand for luxury property," says Davidoff, explaining why detached have exploded in value while others have not.
"Detached homes are attractive because they have low dividend yields. It sounds like a bad thing..but you're banking on it growing, you might be able to densify, and you're generally able to attract a more affluent renter."
But the value of attached homes has increased by over $500,000 in the last six months as well.
"There's clearly a spillover effect to the townhome and condo market," says Davidoff.
"Those have accelerated recently, and in many places we now have Manahattan prices on Vancouver incomes. I don't see affordability there."
De Jong also made the argument several times this week that the provincial government shouldn't change housing policies for the benefit of one particular area.
"We govern the entire province of British Columbia. Not just one or two neighbourhoods," he said.
"There is more to British Columbia than just Point Grey."
Davidoff, who is among of group of economists who has proposed a surtax on absentee homeowners, says different policies are needed for different regions.
"We've made a choice [in the Lower Mainland] to have low property taxes and high income taxes, and that choice makes it hard for people to compete, I think, with international buyers."
The Real Estate Board is expected to release their figures for February next week.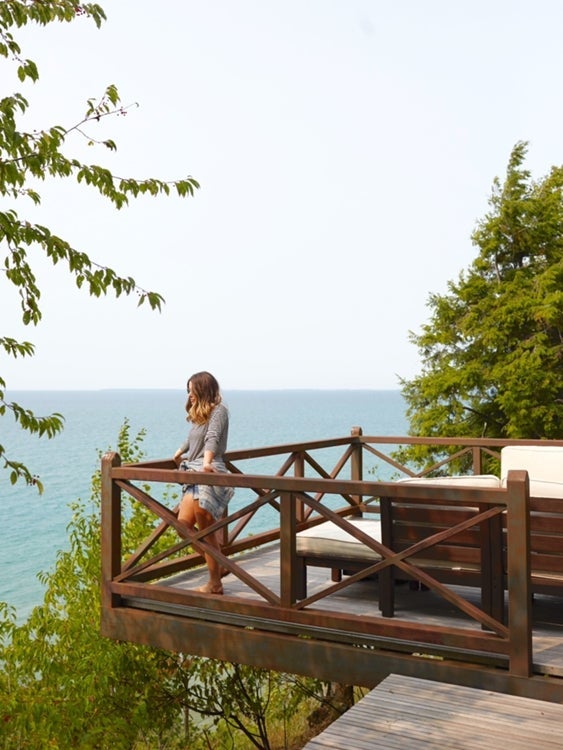 If you read the entire report you definitely deserve a gold star by your name and if you or anyone you know is considering the purchase or sale of your home or any real estate don't hesitate to call our team anytime, 604-767-6736. Zero pressure. Zero obligation. Just plenty of friendly conversation and real estate answers.

Share
blog comments powered by

Disqus
Categories
Archives

Subscribe To This Blog