Testimonials That Make Us Blush
Simone - Victoria & West Vancouver, B.C.
I would like to offer my unsolicited letter of endorsement and heartfelt appreciation for the truly amazing real estate team of Mandeep, Robert, Kritisha and Vesna. Simply thanking them for their hard work, relentless dedication, always positive and unwavering professionalism in the recent sale of my tenanted condo doesn't do their performance justice.

As a sophisticated, mature female business executive my standards are naturally extremely high and I am not one to compliment for the sake of doing so. That said, my real estate team were ridiculously fabulous from the first phone call to the post sale follow up. This team of passionate, dedicated professionals managed very challenging situations with a level of savvy expertise and saintly patience creating an absolutely calm and streamlined experience with the demanding outcome I required. Their marketing of my home was second to none, their constant communication was timely and on point, their strategies and negotiations were out of the box and flawless.
I have family members that are very established real estate professionals and I still chose The BC Home Hunter Group. This real estate team obviously exceeded all of my expectations. I trust them explicitly and cannot recommend them high enough to anyone selling or purchasing their home or property. 






Christi & Jason - Ocean Park South Surrey & Langley, B.C.
Our family owes a huge thank you to our real estate friends at The BC Home Hunter Group. The entire team are all STARS! We have no idea how you managed to balance our significant demands with that completely refreshing and sincere desire to find us our dream home and then negotiated for us in multiple offers.
Thank you, thank you, thank you! We cannot recommend Robert, Mandeep,  Vesna and their real estate team enough. Your crazy not to call them to buy and sell your home.
Aidan & Taylor - Pitt Meadows, B.C.
My wife and I will make this short and sweet. Robert, Mandeep, Vesna and their real estate team are THE BEST!

If your selling your home, if your buying your home, if you want THE BEST there is in the lower mainland then call our friends at The BC Home Hunter Group.

Thank you for going so far beyond what we ever expected to get us exactly what we wanted and needed! We are telling everyone we know to sell or buy their home using your real estate team. See you at our house warming!

Cindy & James - Morgan Creek, South Surrey, B.C.
We are seasoned real estate investors, we have bought and sold 11 properties in greater Vancouver, South Surrey, Whistler, Vancouver Island and the Okanagan. As such we know plenty of realtor's and until we met Robert, Mandeep and their real estate team our expectations were not that high, that all changed. If your a first time home buyer or experienced investors we cannot recommend these workaholic real estate guru's enough. 
Robert is completely and utterly the Einstein of real estate analysis, forecasting, marketing and he really is the most sincere business professional we have encountered and worked with. Mandeep is absolutely unflappable. We were stunned by his calmness under such stressful negotiations, our very demanding and regularly evolving requirements as both buyers and sellers. 
Together they really are a truly unique and remarkably powerful real estate team. Their real estate signage, second to none. Their marketing and strategy, second to none. Their work ethic, second to none. Their ethics, second to none. Their collective performance? Outstanding! We know this endorsement is lengthily and flowery but these two fine gentlemen and their real estate team made us believers and far out performed our expectations. We have and will refer them to all of our family and friends.






Nick - Developer/Builder - West Vancouver, B.C.
Great jobs guys! I have to say your team certainly earned your hard fought commission on this project. I won't hesitate to use your company again and refer you to my clients and family here in Vancouver. See you soon.



Peter & Irene - Vancouver, B.C.
My wife Irene and I have known Robert Pybus since grade school in our Kitsilano neighbourhood in Vancouver. We both know many real estate professionals in Vancouver but we only trust Robert and his real estate team to refer all our friends and family to. 
We could wax poetic about Robert's character and the lifetime of unsolicited giving to others that we are personally aware of. However we choose to sum Robert up by just saying he is a true boyscout who is a meticulous and consummate real estate expert . 
If you, your family or friends are searching for someone in business your can trust, we have just the businessman for you. Pick up the phone and call our lifelong friend Robert Pybus and his real estate team at The BC Home Hunter Group. You can thank us later.
Niles - White Rock, B.C.

Both selling and buying a home are emotional decisions; at least for me. The work ethic that Mandeep showed in spending his time and effort to satisfy my every concern and need regarding our decisions to buy and sell was truly amazing. 
It is difficult to find quality people in any industry these days that do exactly what they say they will do. Mandeep Sendher, Robert Pybus and their team are truly rare individuals who will never let you down; be it in their ethics or strong negotiation skills on your behalf. 
Time and time again throughout our difficult decisions both of these fine gentlemen have been right by our side, day or night always available to assist and guide us through this process. May this testimonial help those who are looking for the very best team of realtor's and real estate professionals.

Tim & Steph - North Vancouver, B.C.
Being life long Vancouver and North Vancouver residents, having bought and sold homes and having raised our family here we know many realtor's. That said we don't know anyone better than Robert and the real estate team he put together and manages at The BC Home Hunter Group. Their knowledge on any and every conceivable real estate topic was not just reassuring but overwhelmingly helpful in every step we decided, from the sale of our home (including the removal of the underground oil tank we didn't know we had) right down to their knowledge of the Okanagan where we are so happy to have now settled.
Hallmark old fashion customer service, zero pressure, the highest quality home marketing, incredible knowledge and experience have made them our real estate professionals of choice. We are also big fans of their referral program for our friends. Thank you so much!
Catherine, Isaiah & Kayla - Vancouver, B.C.
My family and I have been close friends with Robert for many years. There is no one more passionately motivated by serving others than Robert. He and Mandeep truly are good guys that just happen to make an amazing real estate team. 
We know first hand that if your buying or selling your home or just want an honest answer they are unequivocally the real estate professionals for the job.
Karl & Nadia - Vancouver, B.C.
It is our families pleasure to offer our heartfelt endorsement of Robert, Mandeep and their real estate team. We have known Robert Pybus for over a decade as both a consummate real estate professional, wonderful neighbour and member of our community. Mandeep is an absolute treasure. We cannot thank him enough for his constant communication, outstanding negotiation skills and timely humour.

They are truly a dynamic real estate duo and their team far exceeded all of our expectations. Friends and our real estate team for life.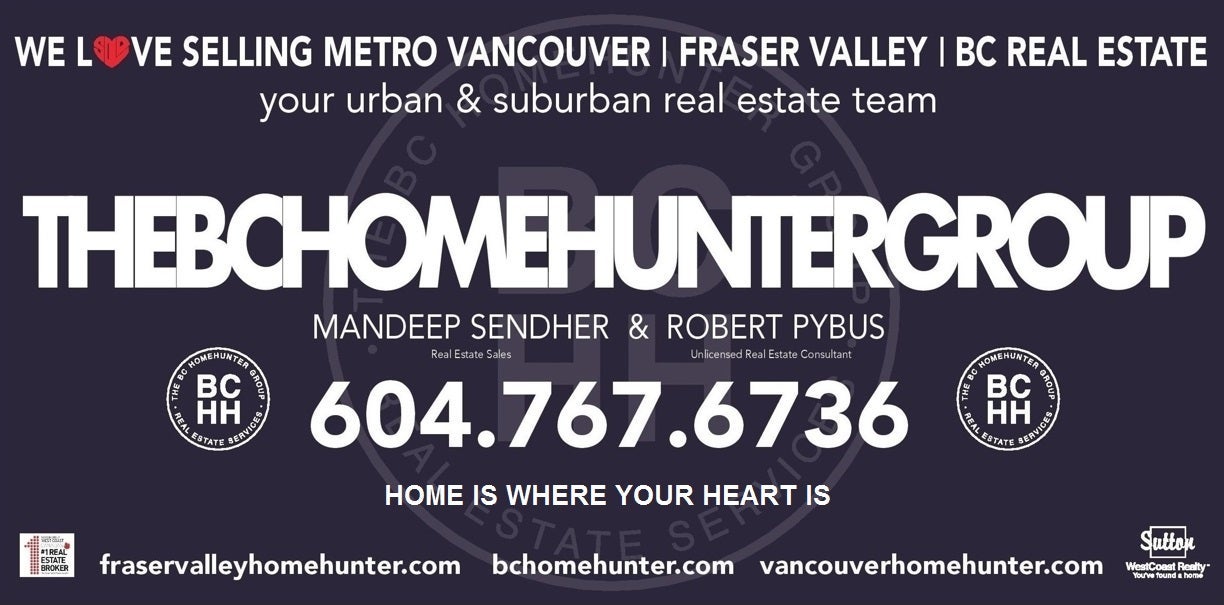 Quick Contact
THE BC HOME HUNTER GROUP AWARD WINNING REAL ESTATE SALES & HOMEOWNER ADVOCATES I METRO VANCOUVER I NORTH SHORE I FRASER VALLEY I BC
Sutton West Coast Realty I Metro Vancouver I North Shore I Fraser Valley I West Coast I BC
15595 24th Avenue
White Rock
BC
V4A 2J4
Mobile:
Marketing I Business Development I Robert Pybus
Phone:
Real Estate Sales I Mandeep Sendher I 604-767-6736
Fax:
604-538-0237
Email:
sold@bchomehunter.com